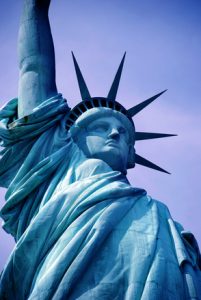 On April 30, 2019, President Trump issued a memo outlining several significant new restrictions on individuals seeking asylum in the United States. The memo orders the U.S. Department of Justice, and the U.S. Department of Homeland Security, to come up with regulatory rules implementing the policies laid out in the memo by July 29, 2019. If these rules are enacted, it would make it much harder for asylum seekers to to be granted asylum in the United States.
Asylum is a form of legal protection, that allows individuals to remain in the United States indefinitely, who have faced past persecution, or will face persecution in the future, because of their race, religion, nationality, political opinion, or membership in a particular social group. Generally, an asylum seeker must formally apply for asylum within one year of entering the United States. There are two ways that individuals may apply for asylum. First, if the individual has not yet been put into immigration court, they may file their asylum case with U.S. Citizenship and Immigration Services. If the individual is in immigration court, they must file their application with the immigration court. Under current law, all asylum seekers are eligible for work authorization after their case has been pending for 180 days. For more information on the asylum process, please visit our website.
In his April 30 memo, President Trump outlines four changes to the asylum process. First, asylum seekers would be charged a fee to apply for asylum. Currently, it is free for individuals to apply for asylum. Second, the United States would charge asylum seekers a fee if they wished to apply for work authorization. Under current policy, it is free for asylum seekers to initially apply for work authorization. However, asylum seekers are charged a fee if they wish to renew their work authorization. Third, asylum seekers who illegally entered the United States would no longer be eligible for work authorization until their asylum cases are approved by either USCIS or an immigration court. Fourth, USCIS and immigration courts would be required to adjudicate all asylum claims within 180 days of being filed.