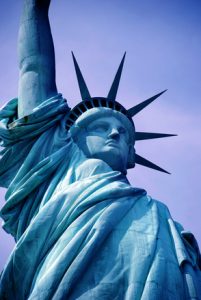 On April 30, 2019, President Trump issued a memo outlining several significant new restrictions on individuals seeking asylum in the United States. The memo orders the U.S. Department of Justice, and the U.S. Department of Homeland Security, to come up with regulatory rules implementing the policies laid out in the memo by July 29, 2019. If these rules are enacted, it would make it much harder for asylum seekers to to be granted asylum in the United States.
Asylum is a form of legal protection, that allows individuals to remain in the United States indefinitely, who have faced past persecution, or will face persecution in the future, because of their race, religion, nationality, political opinion, or membership in a particular social group. Generally, an asylum seeker must formally apply for asylum within one year of entering the United States. There are two ways that individuals may apply for asylum. First, if the individual has not yet been put into immigration court, they may file their asylum case with U.S. Citizenship and Immigration Services. If the individual is in immigration court, they must file their application with the immigration court. Under current law, all asylum seekers are eligible for work authorization after their case has been pending for 180 days. For more information on the asylum process, please visit our website.
In his April 30 memo, President Trump outlines four changes to the asylum process. First, asylum seekers would be charged a fee to apply for asylum. Currently, it is free for individuals to apply for asylum. Second, the United States would charge asylum seekers a fee if they wished to apply for work authorization. Under current policy, it is free for asylum seekers to initially apply for work authorization. However, asylum seekers are charged a fee if they wish to renew their work authorization. Third, asylum seekers who illegally entered the United States would no longer be eligible for work authorization until their asylum cases are approved by either USCIS or an immigration court. Fourth, USCIS and immigration courts would be required to adjudicate all asylum claims within 180 days of being filed.
These changes will make it much harder for individuals to apply for asylum. First, even small fees would be make it impossible for most individuals to apply for asylum. Many asylum seekers come to the United States with little more than the cloths on their back. Most of these individuals do not have any money which they could use to apply for asylum.
Second, many individuals who are able to apply for asylum, will be forced to leave before their cases are heard, or live in extreme poverty, because they will not be eligible for work authorization. As stated above, many asylum seekers do not have any money reserves they can use while awaiting work authorization. Under the current immigration process, it can take years for asylum cases to become finale. During the entire process, individuals who entered the country illegally, would not be able to legally support themselves.
Finally, the 180 day adjudication rule, will hinder the cases of those who will seek asylum in the future, as well as those currently waiting for their cases to be heard. For new cases, which would be subjected to the 180 day  rule, many individuals will have a hard time adequately preparing their cases. It can take weeks, and even months for individuals to obtain documentation from inside their home countries showing the persecution they have faced. Under the new rule, cases will be adjudicated before individuals are able to obtain the evidence that would allow them to win their cases. This will lead to many asylum cases being denied which otherwise would have been approved.
In terms of cases currently pending, the 180 day rule will cause these cases to face additional delays. There is currently a huge backlog of asylum cases both at USCIS and the immigration courts. It is not uncommon for a case to take several years because of the backlog. The 180 day rule, would move new asylum cases to the front of the line for adjudication. This will mean that cases which are currently pending, will have their court dates and USCIS interview dates further pushed back to accommodate newly filed cases.
Hartzman Law Firm, LLC, specializes in helping individuals navigate the U.S. asylum process. If you or someone you know would like more information on asylum, please contact us at (412) 495-9849, or through the following link.